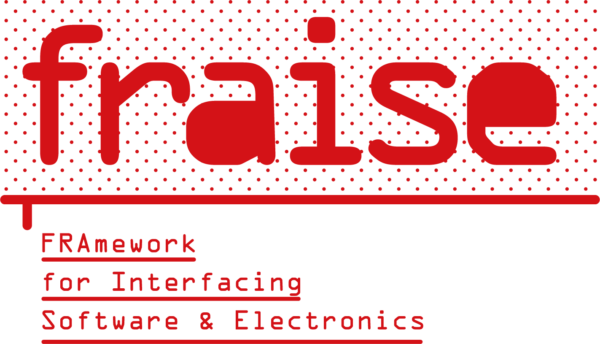 Fraise is an open-source framework developed by metalu.net for connecting multiple low-cost microcontroller boards to a computer. It aims to simplify building of robotic installations, control interfaces (for light, video, music…) or any project combining software, sensors and actuators.
Fraise already found its place in many artistic creations, from which it comes.
Fraise provides many conveniences, like:
symbiosis between the software (the application running in the computer) and the hardware (the electronic boards interfacing the sensors and the actuators)
easy wiring of complex machines (avoiding bunches of wires)
freedom about the size of the installation (not limited by cable length)
fast prototyping and development
Fraise has indeed unique characteristics:
connection of up to 126 boards using a single USB port
interconnection cables can total 400m (1300ft)
Pure Data based software environment, allowing to develop, test and run the application
an advanced firmware library, including analog signal acquiring and conditioning, DC motor control (position, speed, acceleration…), AC light or motor dimming, i2c, DMX512…
The choice of the cable solution, compared to wireless, is fully assumed, given the reliability it provides and its low cost.